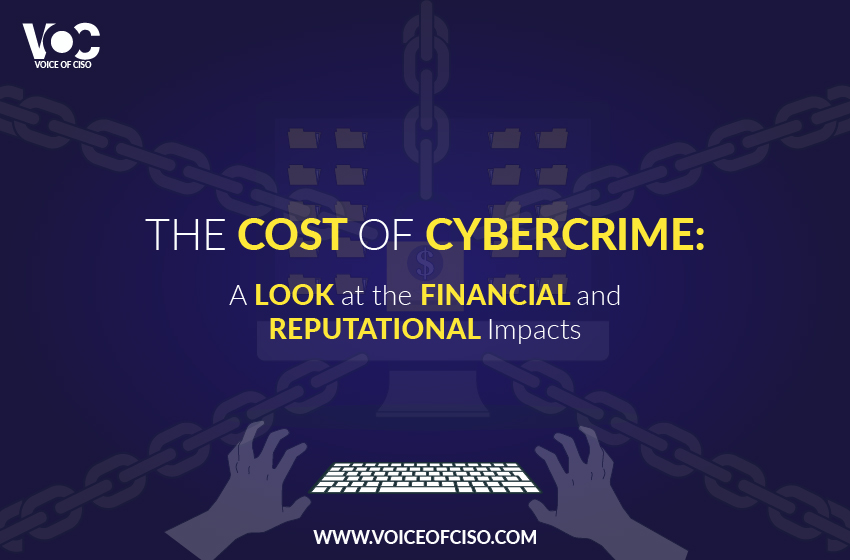 The Financial and Reputational Cost of Cybercrime
Silent thieves lurking in the shadows, targeting unsuspecting victims with digital precision. The cost of their crimes is staggering, leaving shattered lives and financial ruins in their wake. Welcome to the dark underworld of cybercrime, where the price paid goes far beyond mere numbers on a balance sheet.
Without the right knowledge and a managed-risk approach to handling cyberattacks, nations, organizations, and people are highly vulnerable to financial losses that may eventually result in widespread reputational harm and unforeseen financial losses, damages, and liabilities.
A Look at the Financial Impact of the Cybercrimes
We examined combinations of several scenarios that could have an impact on day-to-day operations in the event of a significant power outage, a significant cloud operation, or the failure of domain name servers as a result of a well-coordinated international cyberattack. The distributed denial of service attacks used in the global attacks combines high volume and intensity with up to four attack channels, one of which is a very advanced ransomware program dubbed "wiper" that lacks an immediate kill switch. An attack vector is a method by which an attacker can access a computer or network without authorization.
$121 billion to $234 billion in global economic damages are possible, while $27 billion to $40 billion in insurance losses. We assume an interference and/or disruption for a period of 2 to 5 days in the public and/or private sector, with an estimated low of 359,000 to a high of 776,000 enterprises impacted globally, depending on the area, industry, and scenario.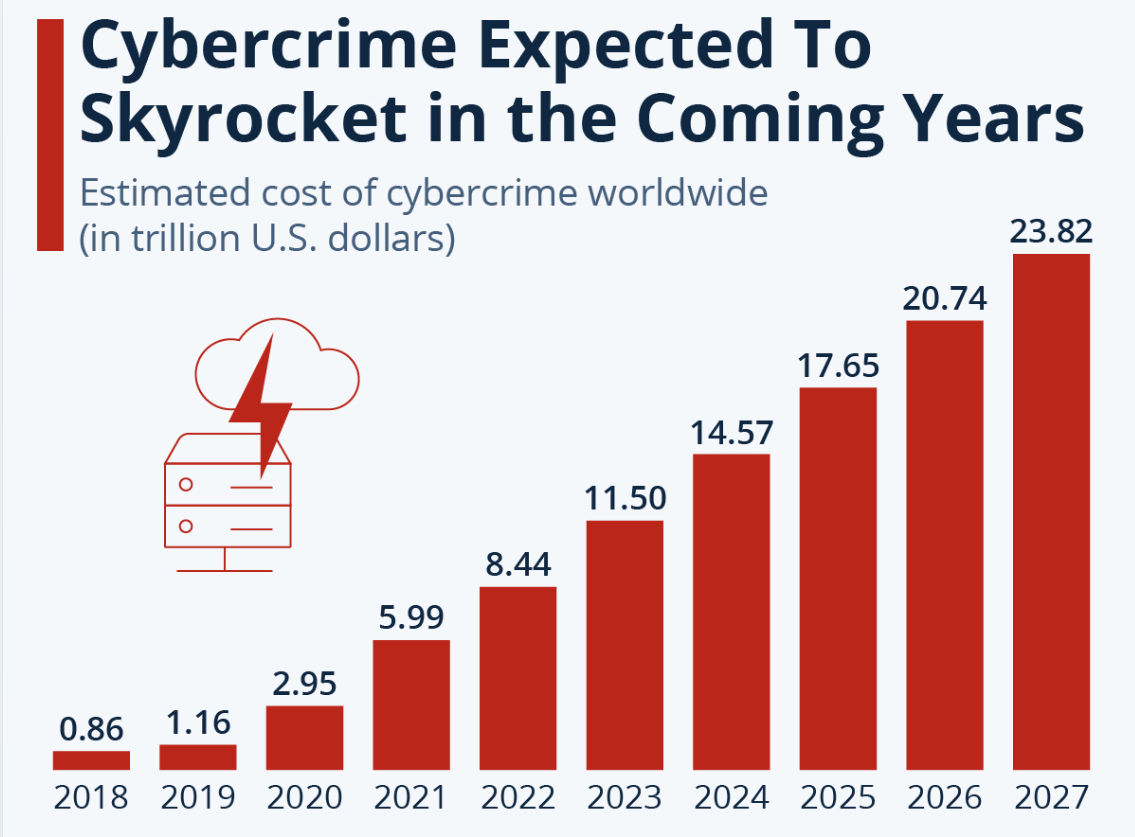 The cost of cybercrime globally is anticipated to increase over the next five years, going from $8.44 trillion in 2022 to $23.84 trillion by 2027, according to projections from Statista's Cybersecurity Outlook.
damage and destruction of data, stolen money, lost productivity, theft of intellectual property, theft of personal and financial data, embezzlement, fraud, post-attack disruption to the normal course of business, forensic investigation, restoration and deletion of hacked data and systems, and reputational harm.
Organizations need to be aware of the different types of cybersecurity threats that they face since cybercriminals have also evolved. Some of these threats are: (i) distributed denial of service attack—a malicious attack floods the target infrastructure with traffic, disrupting its services; (ii) system compromise—unauthorized access to an organization's computer system; (iii) ransomware; (iv) financial theft; (v) threat to intellectual property; and (vi) insider threats.
Reputational Damage: A Look into the Impact of the Crime
Cybercrime and hacking have other non-financial repercussions as well. You might be able to get back the money you spent, but what about the company's standing?
Analysis of an attack and restoring business operations is key to ensuring that organizations do not fall prey to the same attack or, ideally, the same attacker. However, with a proper incident response and disaster recovery element, technically recovering from an attack simply becomes a matter of restoring services and implementing the appropriate cybersecurity controls to protect an exploited organization.

What takes much longer to restore is public brand perception and customer retention. Companies have shown their fear of customer loss in the past by implementing rather dramatic controls in an effort to keep their customers.
Your company's reputation may be impacted by how it handles cybercrime for years to come. A data breach can result in a long-term loss of trust if your profession, like healthcare, is closely related to the security of sensitive data. A cybersecurity catastrophe can cause serious damage to any industry.
Talking about the reputational damage,
According to a recent Ponemon Institute study on data breaches, the average global cost of a threat in 2017 was US$3.79 million (£2.6 million), with the UK coming in at US$3.72 million.
The results show that reputational expenses, such as unusual customer turnover and goodwill damage, accounted for $1.57 million of the overall costs. This increased from $1.33 million in 2014 and accounted for more than 40% of all expenses.
Our Readers ALSO READ

Cybersecurity in the Age of IoT

The Ponemon Institute claimed in their research that "the increased lost business has been a result of consumers' concerns about the security of their personal data following a breach and the growing awareness of identity theft."
The threats to an organization's reputation that follow a breach were stressed by the UK Information Commissioner's Office. For violations of the Data Protection Act, the ICO has the authority to punish businesses with £500,000, which can serve as a potent deterrent.

The consequences of cybersecurity failures, according to information commissioner Christopher Graham, may, however, be considerably more important. He cited a YouGov survey that revealed 20% of respondents would unquestionably stop doing business with a company after a breach, and another 57% would think about doing so.
A data breach can have catastrophic consequences for a firm. Receiving a fine is one thing, but it can be a genuine body blow when clients start moving their business – and their money – elsewhere

Christopher Graham
Final Words
Cybercrime can deplete resources financially through loss of revenue, increased costs to fix breaches, third-party liability claims, fines, and penalties. The effect might worsen, leading to a loss of clients, diminished investor trust, and perhaps even legal implications. The impact on a company's capacity to maintain its financial health serves as a sharp reminder that investing in cybersecurity measures is not just an expense but also a defense against potentially disastrous losses.
Reputation, often built painstakingly over years, can be shattered in an instant. A cybersecurity incident can erode trust among customers, partners, and stakeholders. News spreads fast in our interconnected world, and the damage to a brand's reputation can have far-reaching consequences. Rebuilding trust and credibility after a cyberattack is a daunting task, demanding tremendous effort and resources.
To safeguard both finance and reputation, it is essential for governments, companies, and individuals to recognize the inevitability of cyberattacks. Preparation, proactive measures, and a managed-risk approach are paramount. Organizations must embed cybersecurity at the highest levels of decision-making, stress real-time crisis management and supply chain resilience, and establish comprehensive strategies encompassing threat intelligence, risk transfer through cyber insurance, regulatory compliance, and strategic partnerships.
Like this article? Follow our LinkedIn, Facebook, and Twitter handles for more exclusive content like this.